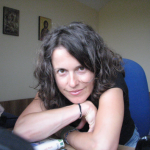 My name is Daniela. I was never crazy about my first name. I always liked my middle name better. I went on a name strike when I was six, refusing to respond to anything but my middle name. Like the rest of the few strikes in my former communist country, mine died suddenly and was never to be heard of again. Now I like my name. It takes a few good people to call it right – my mom first of all – for me to hear it the way it was meant.
I write. Occasionally it comes out so right it makes me feel smug about it. Other times it's the opposite. It takes discipline to make it work, and that's a constant struggle. You'd think I'd be done with that by now. I wish. One day I'll look back and laugh about it though.
I am a mother to two beloved boys who play in mud up to their necks – this not a figure of speech – and believe that boundaries are more of a fictional creation than flying pigs. They are no strangers to carving with pocketknives either. I would not have it any other way.
I have one membership: I belong to the Cloud Appreciation Society. Yes, it exists. It involves cloud chasing.
I teach (occasionally). If I say Biochemistry and Cellular Biology you might turn your head and look for something less scary. But hear me out. I have learned more about myself and why I do what I do through teaching than I would learn from a psychologist. To hear a student say they now see the world around with different eyes is the goal; often accomplished. Makes it all worthwhile.
I used to be terrified of the dark, now I am just afraid, but know for a fact that fear is not an option when you have two little people looking up to you. Yet these days I acknowledge being human more than ever before. It's a good place to start. Life has thrown a few curve balls at me over the last few years but I still think being alive is one of the best things that's happened to me. The other one is being a mother.
My world is a fast-moving one. I have a blue racing bike that I pair with for races and such, or just rides that make my heart swell in ways that cannot be explained unless you hop on one yourself and hit the road. I also run every day and plan to keep doing so until. Should be a while though.
One of my favorite quotes is by Helen Keller: "Security is mostly a superstition. It does not exist in nature…. Life is either a daring adventure or nothing." Agree? I thought so. Never had so much of my toes out in the sun, but today felt like the perfect day to do it.
If you care to know about my professional qualifications, please feel free to ask for my curriculum vitae, I will be happy to oblige. Otherwise, stay a while, read and drop me a line. Oh, and welcome, I always forget this part but mean it every time.